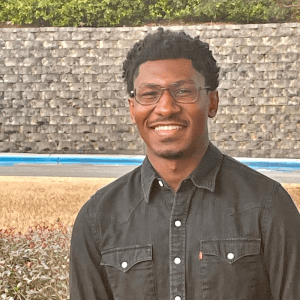 Kylan grew up in Adamsville, AL where he attended Minor High School, and graduated in 2017. He attended Tennessee State University and lived in Nashville, TN for 2 years before he went home for Covid-19 safety precautions. He pushed on to finish his Bachelor's in Music Technology through online schooling and graduated in 2021.
Kylan married Kayla on April 9, 2022 . Kayla graduated Florida Agricultural & Mechanical University in 2020 with a Bachelor's in Chemistry, and currently works at Avanti Polar Lipids where she is a Quality Control Chemist. Kylan and Kayla both joined CrossPoint in January 2022.
Before Kylan came to CrossPoint in November 2021, he taught people of all ages to play piano and bass guitar as an independent contractor at Mason Music. Now, along with being a full-time associate media minister, he also has a part-time job performing with O.P.O.V. Band at private and corporate events.
Kylan enjoys music, marveling God's creation, and spending time with his family.