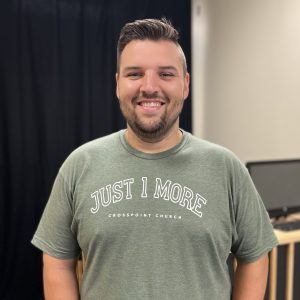 Daniel grew up in Clay, Alabama and graduated from Clay-Chalkville High School in 2006. Daniel attended Hilldale Baptist Church and was heavily involved in his youth group until he graduated high school. After his senior year, while he was on his final youth trip as a student, he attended a class designed for students with leadership qualities. Daniel had been wrestling for a few years with the feeling that God was possibly calling him to vocational student ministry. It was through that class that God affirmed those feelings. He did not hesitate to accept that call and commit his future to student ministry. Daniel is still serving students and loving it more and more with each passing year. He joined our staff in October of 2020.
Daniel has been married to his wife, Ally, since November 12, 2011. They have two children; a daughter (Charlee) and a son (Jack). Ally is a R.N. at Children's Hospital of Alabama and has been working there since 2014. Daniel is currently working on his M.Div. at New Baptist Theological Seminary. As soon as he receives his degree, he will be done with school for as long as he possibly can be!
Daniel has many interests. He loves to play the guitar. He enjoys golf, and now, disc golf. He loves watching movies but loves quoting them even more. Daniel also enjoys laughter and loves to cut up with anyone he can.
Daniel's hope is that he will have a constant hunger to grow and learn more. He wants students to always see a passion in his life for the Lord first and for others second. He wants to model a godly life to those he ministers to and hopes they will see the way he leads his family and students as an example of loving God and loving others.