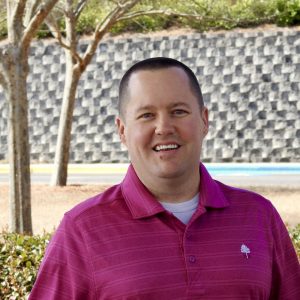 Brian grew up in Vestavia Hills, Alabama and is a graduate of Vestavia Hills High School (1993). After graduating from Vestavia, he enrolled at Samford University and graduated in 1997 with a B.S. in Education focusing on Church Recreation. Brian continued his education at New Orleans Baptist Theological Seminary where he graduated in 2001 with a Masters of Arts in Christian Education.
As a child he always wanted to follow in in his fathers footsteps and become a Minister of Recreation. His dad was a Minister of Recreation for 40 plus years. It was between Brian's junior and senior year of high school when the Lord put that calling on his life.
Brian is married to Angie. They dated throughout college and married on May 30, 1998, one week after Angie graduated with a business degree from Samford. Angie is currently a stay at home mom after a 20 year career at Blue Cross and Blue Shield of Alabama.
Brian and Angie have two incredible kids that came into their family through the amazing gift of adoption. If you are reading this and considering adoption or know someone who is, please reach out to Brian or Angie. They would love to share their story. Kinley (born March 2006) is a student at Hewitt Trussville High School. She loves all things running but especially Cross Country, journaling and reading. Colton (born April 2009) is a student at Hewitt Trussville Middle School. He loves football, reading and anything on the water.
Brian loves all sports but especially college football – Go Vols! His other favorite teams are the Atlanta Braves, San Antonio Spurs and the Pittsburg Steelers. In his spare time Brian loves playing disc golf, golf and spending time with his family.
Brian joined the staff at CrossPoint in July of 2007 as our first Minister of Recreation. In July of 2023, Brian will be transitioning into a new role here at CrossPoint and become our Executive Pastor.