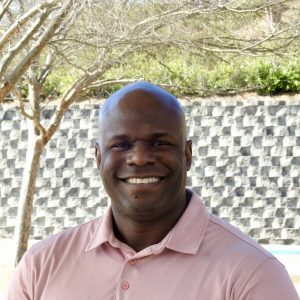 Bryan was born in Tuscaloosa, Alabama – Roll Tide! He was raised in Birmingham and is a graduate of Ensley High School. He attended Jefferson State Community College and was a member of the Jefferson State Singers. After Jefferson State, Bryan completed his Bachelor of Arts in Music with a concentration in Vocal Performance from Stillman College. Bryan was a member of the Student Government Association and College Concert Choir.
After graduating Stillman, Bryan went to work for Banc of America Leasing & Capital Group, LLC. in Tucker, Georgia for 4 years. After Banc Of America Leasing, Bryan endeavored upon a music career which included being background singer for American Idol Winner, Ruben Studdard. Bryan accepted the call to full time ministry in June of 2006 and became CrossPoint's first full-time Worship Leader.
Bryan and Charma were married on April 17, 2004 in Birmingham, Alabama. Charma works for the Department of Veterans Affairs. They have two children, Lyric and Aria, who attend Briarwood Christian School. They also have a beautiful and well-behaved German Shepherd named, Cadence. (she only does what Bryan tells her to do.)
Bryan enjoys spending time with his wife and kids, singing, reading, exercising, and eating a great meal!