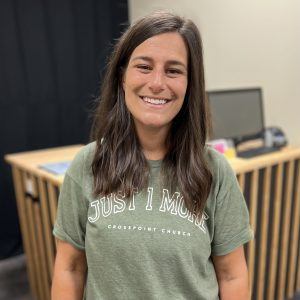 Abi grew up outside New Orleans, LA.  She graduated from the University of Southern Mississippi with a B.S. in Child and Family Studies. After graduating, she interned in Atlanta at Children's Hospital at Scottish Rite and Egleston and then worked as a Child Life Specialist at Ochsner Hospital in New Orleans. 
In 2008, she married Sam and after the birth of their first child, Titus, she took on the full-time role of "Mom!"  Then came their daughter, Gioia (pronounced Joya) and last, but not least, their son Phinehas (Phin). 
Their life has been a rollercoaster of God's faithfulness that ultimately landed them in Trussville due to relocation of her husband's job!  During this transition they visited and fell in love with Crosspoint and have been members since August of 2021.
Abi enjoys spending time with her family, being outdoors, family movie nights, and entertaining people in their home.