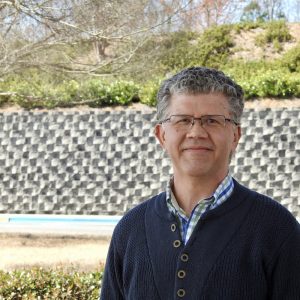 Chris grew up in the Mississippi delta, coming of age in the 1970s -1980s in the heart of the birthplace of the blues. Chris graduated from Delta State University in Cleveland, Mississippi, in 1987 with a Bachelor of Business Administration degree. After completing a Master of Business Administration degree in 1989, Chris married his college sweetheart, Carrie Copeland. They settled in Cleveland, where Chris was the operations planning supervisor for a global medical devices manufacturer.
In January, 1997, Chris and his family moved to Birmingham so he could attend divinity school. Chris graduated from Beeson Divinity School at Samford University in 1999 with a Master of Divinity degree. Carrie has a Master's Degree in Education with a concentration in school psychology. Carrie is a mental health therapist at Eastside Mental Health Center.
Chris and Carrie have two sons and a daughter-in-law. Their son and daughter-in-law, Daniel and Ashley, are actively serving members of CrossPoint. Daniel has an associate's degree from Jefferson State Community College and additional computer science studies at the University of Alabama – Birmingham. Daniel works at American Lumber in Birmingham as an engineered-wood systems designer.   Ashley graduated from the University of Alabama – Birmingham in 2016 with a bachelor's degree in mathematics and a minor in business administration.  Ashley works as a real estate appraiser. Chris and Carrie's son, Jordan, is also an actively serving member of CrossPoint. Jordan graduated from the University of Alabama in 2018 with a Bachelor of Science degree in athletic training. Jordan is currently pursuing a Doctorate of Physical Therapy degree at Samford University.