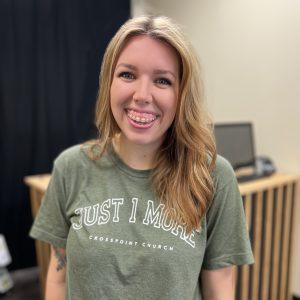 Anna grew up in Clay, Alabama and graduated from Clay-Chalkville High School in 2015. She and her family were members of First Baptist CenterPoint before moving to CrossPoint when the church opened. She attended JeffState Community College and was a part of the Jefferson State Singers for three years. She graduated with an associate's degree from the school in 2018. Anna then transferred to UAB and graduated in 2020 with a degree in Community Health and Human Services. Go Blazers!!
If you know Anna, you know she has a love for cats. She rescued her cat Lucy from the Jack's parking lot down the street from the church in January of 2018. Anna also loves music. She started singing in the children's choir at Crosspoint when she was little. From there she continued singing in school choir and on through college. Today, the Lord graciously allows her to use her love for music and her ability to sing to serve the church and the students of CrossPoint.
Anna was involved in CrossPoint's student ministry worship team as a high school student.She has loved having the opportunity to pour back into this ministry and lead students on the team herself. Anna has been on staff since January of 2020 and has loved being able to invest in the lives of students.
Some things Anna enjoys doing are singing, painting, lettering, and baking. Anna also loves to use her creativity to make all sorts of things.