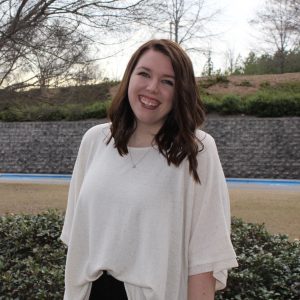 Anna grew up in Clay, Alabama and graduated from Clay Chalkville High School. She and her family were members of First Baptist CenterPoint before moving to CrossPoint when the church started. She attended JeffState after high school and was a part of the Jefferson State Singers. She graduated with an associate degree from the school in 2018. She is now at UAB studying Human Services and is expected to graduate in August of 2020. Go Blazers!! Anna has a cat named Lucy. She rescued her from the Jack's storm drain down the street from the church.
Anna was involved in CrossPoint's student ministry praise team as a high school student. She has loved having the opportunity to pour back into this ministry and lead the team herself. She's also a Bible study leader in the student ministry and has loved being able to invest in the lives of students.
Some things Anna enjoys doing are singing, painting, lettering, and cooking.